Comunicare verbindt de patiënt en zijn zorgteam.
Eén platform,
meerdere interfaces
Platform
Het platform verzamelt informatie van het ziekenhuis naar de patiënt en verzamelt de gerapporteerde resultaten van de patiënt.De belangrijkste innovatie van Comunicare is de personalisatie van patiëntinformatie volgens zijn specifieke zorgtraject en het maakt een slimme interactie tussen de patiënt en zijn zorgverleners mogelijk.
Patiënt
Mobiele applicatie
De mobiele applicatie informeert de patiënt over zijn zorgtraject, vergemakkelijkt zijn therapeutische hechting en de communicatie van uitkomsten naar het medische team. De applicatie biedt toegang tot verschillende informatie-items:
Een gepersonaliseerde tijdlijn die de behandelingsstappen en zorgactiviteiten samenvat
Praktische kennis van de therapie
Didactische videoclips
Beschrijving van mogelijke bijwerkingen en aanbevelingen
Zorgverleners
Dashboard
Comunicare verzamelt veel patiëntgegevens, zowel fysieke als emotionele parameters en symptomen, om zorgverleners te helpen potentiële risicosituaties te voorkomen.
De zorgverleners krijgen een dashboard om de gerapporteerde resultaten van de patiënt te bekijken en te volgen.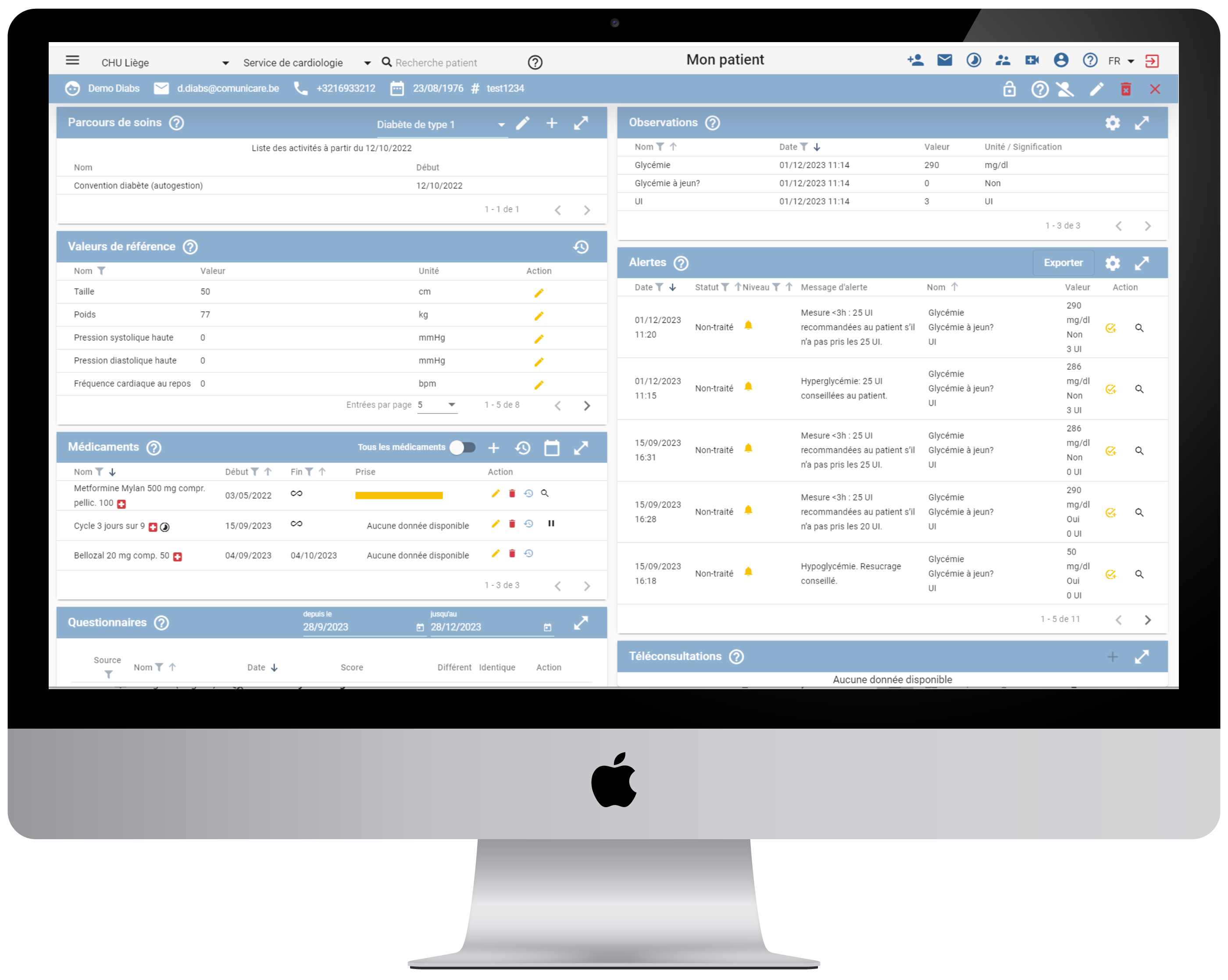 Teleconsultatie
Een moderne en veilige videoconferentietechnologie is geïntegreerd in de mobiele applicatie voor patiënten en in het dashboard van de verzorger. Arts of verpleegkundige kan een teleconsultatie-afspraak maken en met één klik contact opnemen met de patiënt.
Entourage
Familieleden van de patiënt (mantelzorgers) en andere gezondheidswerkers kunnen ook bij het behandelingsproces worden betrokken. De mobiele applicatie is veelzijdig en laat de patiënt wat informatie delen met zijn omgeving. Dankzij de nationale gezondheidscentra kunnen andere zorgverleners ook toegang krijgen tot specifieke gegevens die door de patiënt worden gedeeld.
Voorspellende modellen
Comunicare Analytics bevat gevalideerde voorspellende modellen die artsen kunnen gebruiken om individueel te beslissen over behandelingsopties of om risicosituaties op te sporen die voortvloeien uit de analyse van de door de patiënt verstrekte gegevens. Deze instrumenten zijn essentieel in de medische beslissingsondersteuning voor artsen, maar ook in de deelname van patiënten.
De applicatie richt zich op het monitoren van chronische ziekten (kanker, hartfalen, multipel myeloom, COPD, diabete) en complexe zorg episodes. Het platform is uitgebreid met nieuwe pathologieën naarmate het verder wordt ontwikkeld.