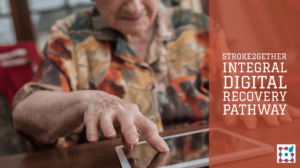 A digital integrated care and lifestyle path after stroke
Within the Stroke2gether project, a fully-fledged digital integrated lifestyle and care path is being developed, applied and valorised for people after a stroke.
This integrated lifestyle and care path is evidenced-based, focused on medical follow-up and monitoring as well as health prevention, via monitoring, education and coaching, both live and remote. As a result, the patient and his/her care providers interact in a smooth way. Treatment results are also reliably shared and adjusted.
Project partners

With the support of

The project receives financial support from ERDF Flanders. Stroke2gether runs from 1 December 2020 to 30 June 2023.